"Climbing shoes must hurt". This is what they tell you after you put on your shoes for the first time; you then look at your future instructor with an air of astonishment. You will relentslessly imagine future lessons as hours spent with a sadist who will make you wear an instrument of torture while desperately trying not to fall from more or less dizzying heights.
A few lessons and you'll either fall in love with climbing and understand why most climbers wear shoes that are two sizes smaller, or you'll give up and realize that neither heights nor wearing overly tight shoes are right for you.
We have written this article for all those who have taken the decision to continue with the challenge and have become 'hooked' on the sport. You will find help on how to choose the shoes that best suits your feet, the first choice to make if you are a new climber, user instructions and some advice on how to maintain them.
The first pair of climbing shoes
Don't let that scare you, if you have just started climbing, you won't need shoes that are two sizes smaller than yours; above all, you won't need particularly curved or technical models that you might need later, when you reach higher grades of difficulty.
Start with a relatively "comfortable" shoe. You're not doing Olympic performances and you're not trying to climb routes or boulders above grade 5; you will need to be able to climb with these shoes for the duration of your lesson and we recommend that you choose a Velcro closure over a lace-up one to make it easier to take your shoes off and on quickly during training.
When making your first purchase, you should consider not only the width of your sole but also the length and structure of your toes; in short, the actual shape of your foot, as well as the importance of your body weight.

Not sure whether you will be bouldering or sport climbing? Then start with a shoe that will allow you to successfully practice both disciplines, taking advice from your instructor after a few lessons in the gym.
Whether you are a beginner or a more advanced climber, remember that there are at least three basic tips to consider when choosing a pair of shoes:
the sole of your foot: some brands indicate whether the model is suitable for a narrow, medium or wide sole. Let's start from this.
What type of rock formation you climb on and at what level: choose a soft sole if you climb overhanging walls with good grip and if you are already a trained climber who doesn't weigh much. If not, and to avoid hurting your feet, choose a shoe with a hard sole, which will help support your feet and develop their muscles. This rule also applies if you possess a heavy build. If you prefer long outdoor routes, choose a stiff sole with a little arching and don't exaggerate with a shoe size that is too small.
In this respect, everyone has their own opinion, the rule might be to buy your climbing shoes two sizes smaller than you would normally wear. If you are a beginner, we suggest going down a maximum of half a size; it will then be gradual to go down a further size when you buy your second pair.
So is it true that climbing shoes must hurt? The answer is: partly. Your toes are wrapped inside the toe box and cannot be stretched, giving you a feeling of constriction. At the beginning they may really bother you, but over time, for the sake of climbing but above all out of habit, you will wear them and appreciate the benefits they can give you in terms of support and precision.
When should you resole or change your climbing shoes?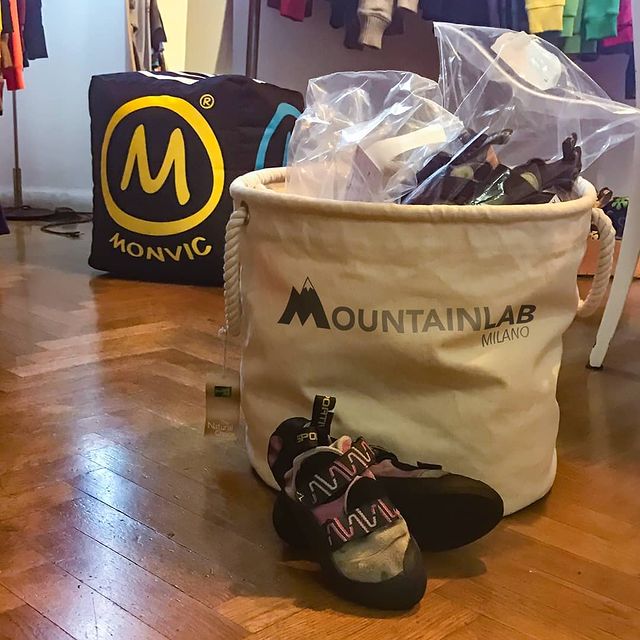 Thanks to our collaboration with MountainLab di Milano, which made Monvic showroom a collection point for shoes to be resoled, we can share some good advice with you.
Never wait until the toe of the shoe wears down to the infamous hole.
The first rule is to understand not to take your shoe to its limits: always check the level of tear and wear on the sole, first because climbing with worn-out shoes and a worn-out toecap is really tiring and slippery, and above all to get a good result in terms of resole. Not only is resoling a pierced climbing shoe with a damaged upper a lengthier affair, it is also more expensive; what's more, regaining the original structure and shape of the shoe may not be possible.
Think and choose two different pairs of shoes.
One for outdoor use and one to be used in the gym or at home. (if you are one of the lucky ones to have a mini climbing wall in your garage). On plastic panels and sockets found in the gym, the sole wears out very quickly, so you could devote some low value shoes' for indoor use and another, more high-performance pair for outdoor climbing.
In addition to the toe, shoes wear down at the front of the sole and in the heel.
The state of tear and wear of the entire shoe regularly and resole in any case in good time, so as not to break the upper part. as we have already told you.
Climbing shoes can be resoled up to two times.
Provided you resole them in good time. You will probably be able to use them indoors after the second resole.
How can I widen my climbing shoes?
If you ask yourself this question, it 's certainly because the shoes you are wearing are too much to bear.. Let's assume that you have purchased the right shoes in the right size. Unfortunately, there are no great solutions, but you can take them with you while training, along with more comfortable ones and start wearing them in turns.
Over time, the shoe will tend to loosen and follow the shape of your foot. You can also use them at home in the place of slippers to get used to them and start giving them the shape of your foot.
Needless to say, there are no major solutions to softening your climbing shoes other than perseverance. Don't even think about getting them wet and then heating them on the radiator or with a hair dryer: you really do risk ruining them.
How can I wash my climbing shoes?
Before reaching the point when you want to throw them in the washing machine or hang them on a rail outside the balcony, let's start by removing the shoes from the bag after each use and allowing them to dry from any sweat and moisture before storing them indoors.
Your climbing companions as well as your feet will thank you for this.
If, despite all this care, you think your shoes absolutely need washing, forget the washing machine! Soak them in a bowl of lukewarm water and neutral soap such as Marseille, and leave them to soak for no longer than 15 minutes. It's best to dry your shoes in the open air, but not in direct sunlight, and never place them on the radiator at home.
And then there are those who climb barefoot…
Take our friend Matt Climber: he is a South African athlete, very popular on social networks, who prefers direct skin contact with the rock while maintaining a fluidity of movements. It is clear to us mere mortals that, perhaps, some select few find wearing shoes utterly unnecessary.