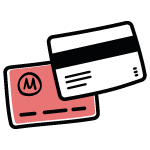 Payments for your purchases can be made in the following ways:
Paypal®
Select the payment method and log in using your existing PayPal® account.
MONVIC is PayPal Verified and all transactions are protected by a secure SSL connection with 256-bit encryption.
Credit cards
To pay with a Visa®, MasterCard®, American Express®, PostePay® or Aura® credit card, proceed as follows:
Select PayPal® as a payment method.
Choose in the window that opens "Pay with a card".
Complete the form by entering all the requested data.
Confirm the payment.
Bank transfer
Arrange the payment for the entire amount indicated in the order including shipping costs to the following bank details:
beneficiary: MONVIC by Gualtieri Monica Luciana
reason for payment: order number
Bank: Banca Popolare di Sondrio
IBAN: IT31T 05696 01626 000002600X54
BIC: POSOIT22
When paying with credit cards at no point of the purchase procedure is the Seller able to know any information regarding the Customer's credit card; such data shall be sent by means of a protected and encrypted connection, directly to the website of the transaction handler (Paypal®).
No database of the Seller will store such data.
Therefore, under no circumstances can the Seller be held liable for any fraudulent or undue use of credit cards by third parties, upon making payment for Products purchased from the Website.
In case of payment performed by bank transfer the order fulfillment may increase by a few days as we will have to check the payment with the bank.
If you use a Home-banking system to make the transfer, send us a pdf copy of the provision made at the e-mail address: info@monvic.it.
This will facilitate the search for payment and shorten the processing time of your order.
The Tax-Free service cannot be requested, because it applies only to products purchased in the store and directly transported by the buyer.