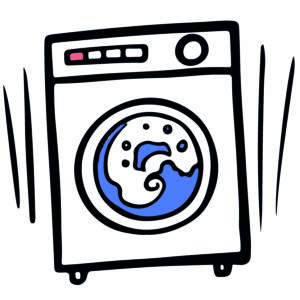 Dear climber or custom-made sportswear lover…
the question we are almost never asked when buying our clothing is "How should I wash the trousers? How should I iron the t-shirt?". We'll take care of it for you – even if you don't ask – hoping that this article will be useful not only for allowing all Monvic garments to have a long life, but for any other garment in your possession.
The first thing you should do is to always look at the inside label and follow the directions. If you are not familiar with the symbols shown, you will find all the information you need at the bottom of the page!
WASHING

The first general advice we give you is to always
wash everything inside out
. This allows the fibres not to wear out when rubbing against other garments in the washing machine and to protect against too aggressive detergents or high temperatures. 30° C is the temperature we recommend and always
set the spin cycle to low speed
(around 600 rpm).
DRYING

After washing, always hang the garments in the air and not in direct sunlight to dry them and try never to use a tumble dryer, although very convenient you would quickly risk deteriorating both the print and the fabric.
IRONING

Iron everything inside out or protect the graphics with a light fabric or baking paper: this will allow the print to be eternal. And please don't say 'I don't iron'! Do it at least once in a while if you want your graphics to last a long time. We know that when you're skiing in the mountains, it doesn't matter if your clothing is wrinkled, but try to take care of the fabrics so that you don't complain about poor durability afterwards.
DEPENDING ON THE MATERIAL...
SPECIFIC ADVICE
READING THE LABELS...
GARMENT CARE SYMBOLS
We list the meaning of the various care symbols on our garments, respect them and you won't have any unpleasant surprises!
And now that you have a PhD in washing techniques… enjoy your Monvic garments in the gym, at the crag and during your free time!