It happens to me during some relaxing evenings at the bar that dear friends take me for a fool when I approach the subject of climbing.
For example, when I start to talk about the magic of interaction with the rock and the connection that is created between man and this natural element. A mix of reverence, challenge and acceptance of its strength and magnetism that draws us to the bottom of its walls to forge a bond even before we have put on our shoes.
Fortunately, Monvic team is all a bit crazy and among crazy people we understand each other and share our passions, especially for climbing.
In this article I am pleased to report a short story written by Dario Rota which tells us about the "bouldering circle".
For many years I climbed at crags, frequenting walls that were already equipped, prepared and shared by others.
The love of rope accompanied me for a long time. Then I got to know bouldering, which gradually became my main vertical activity.
In recent years I have created a bouldering zone near Lecco (yeah, sounds weird, doesn't it?), which then became Lario Bloc, passed into the loving and attentive hands of Paolo Zorloni. I published the first complete bouldering guidebook to about Valle dell'Orco with the wonderful crew of Rifugio Mila, but more than any other, my activity is linked to the revival of Foppiano Boulder area.
There is a lot to say about this gem of Ossola's bouldering, but today I would like to share with you what I call "The circle of bouldering", and I want to do so through seven magic words that make up this virtuous circle of territory enhancement.
It all starts with the abracadabra of the boulder seeker: EXPLORATION.
Step by step, getting lost in the forest allows me to go beyond the known sectors, giving me the opportunity to move on to the second word, DISCOVERY.
Discovering a new stone is not only exciting, it is addictive!
Even before I look at the stone, I look to see if there are others around, like a good obsessive/compulsive! But once the craving has subsided and I have assessed that the stone has potential, here we come to the third word, CARE.
Taking care of a stone giant is tiring, time-consuming and energy-intensive. It comes at a price: the price of not being able to climb, at least for the minimum time necessary to secure the base and clean the new granite friend. And after pampering our wild giant, we come to the DREAM…
You imagine the lines, the movements, the gestures, and often names are already born. And with the dream comes all the energy spent during the attempts, which often, but not always, come to REALISATION.
The line is not only possible, but someone manages to climb it. Wow, what a moment…. and here, after all these efforts, comes the CELEBRATION, the moment when that stone receives from us little human beings, a name.
And with the name, the identity.
And although it is an identity that we decide on arbitrarily, it allows us to call the line, to relate to it. To write a tiny piece in the great history of bouldering. But it's not over yet, there is one last word, perhaps the most magical, the most important: SHARING.
This granite identity is ready to be shared with the community, so that everyone can try it out and have their say, add lines, release harder variations or find new lines that we have not guessed at. Without sharing, how much wonder would be lost?
Foppiano is based on sharing, which over the years has brought us many new pearls released by the unstoppable lovers of the vertical gesture. This bouldering circle has been able to nourish the enormous potential, not yet exhausted, of this forest that is so strong, so alive, so rich.
See you for the next circle!
Want to discover Foppiano's boulders? Follow Dario's videos!
Foppiano: Dario's video guides
For all the videos, watch the dedicated youtube channel here.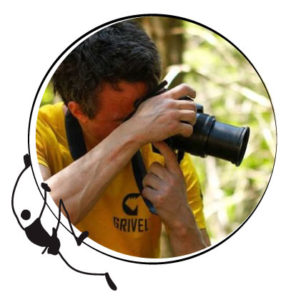 Dario Rota
Istruttore, tracciatore, fotografo
FASI instructor and first level route setter. Responsible at Vert Climb and coach for a group of young competitive athletes.
Passionate about writing and literature and a professional photographer, an activity he carries out with passion for us at Monvic!