Spring is upon us and the desire to celebrate it freely, in close contact with nature, touching the rocks, the trees, the first flowers and spending time with friends is stronger than ever. Not being able to do so makes us sad.
For the second time in two years, we will certainly spend part of this season indoors, deprived of the most beautiful scents and colours. But at Monvic we have decided that, at least for flowers, we don't want to give up, and that we still want to feel that spring is with us.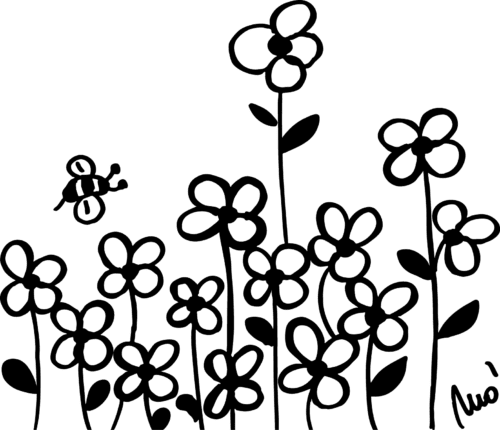 The Monvic Floral Collection is an invitation to reawaken, to enjoy nature in its perpetual course that carries on regardless of us and our laws. Let us welcome it with resonance for a new beginning and a fresh start.
20 March has arrived. But nature has knocked on the doors of winter for several months. If you are an meticulous observer, you will already have spotted the first premonitory signs of this magical season in mid-February while at the crag.
The boldest flowers sprouted in the forest, confronting us with the cyclical force of nature as it is born again. Our hearts were filled with joy as we approached. The colours of the first flowers have a healing power for the soul, and seeing them year after year on our paths reassures us that, however harsh a winter may be, spring will always come with its snowdrops to break the ice and show itself to us in all its splendour.
SPRING OF PRINTED FLOWERS
Let's start with the ones we can all – or almost all – recognise, the Primroses: they grow in small, straw-yellow tufts, with a darker shade in the centre. You may not have known this, but the common primrose, as well as being a visual delight, can be used in salads, for an omelette or as an ingredient in a risotto.
You then have the liverwort, a small plant with an unmistakable blue-purple flower. Its name is linked to the three-lobed shape of its leaves, which has made it a symbol of the Trinity in sacred frescoes. Unlike the primrose, this little flower and its plant are toxic. All we have to do is watch them bloom between the months of February and May.
At a slightly higher altitude we find a true force of nature, the snowdrop. When the snow has not melted yet, this "delicate" little flower breaks through the icy layer on the ground to reveal itself in all its elegance and beauty.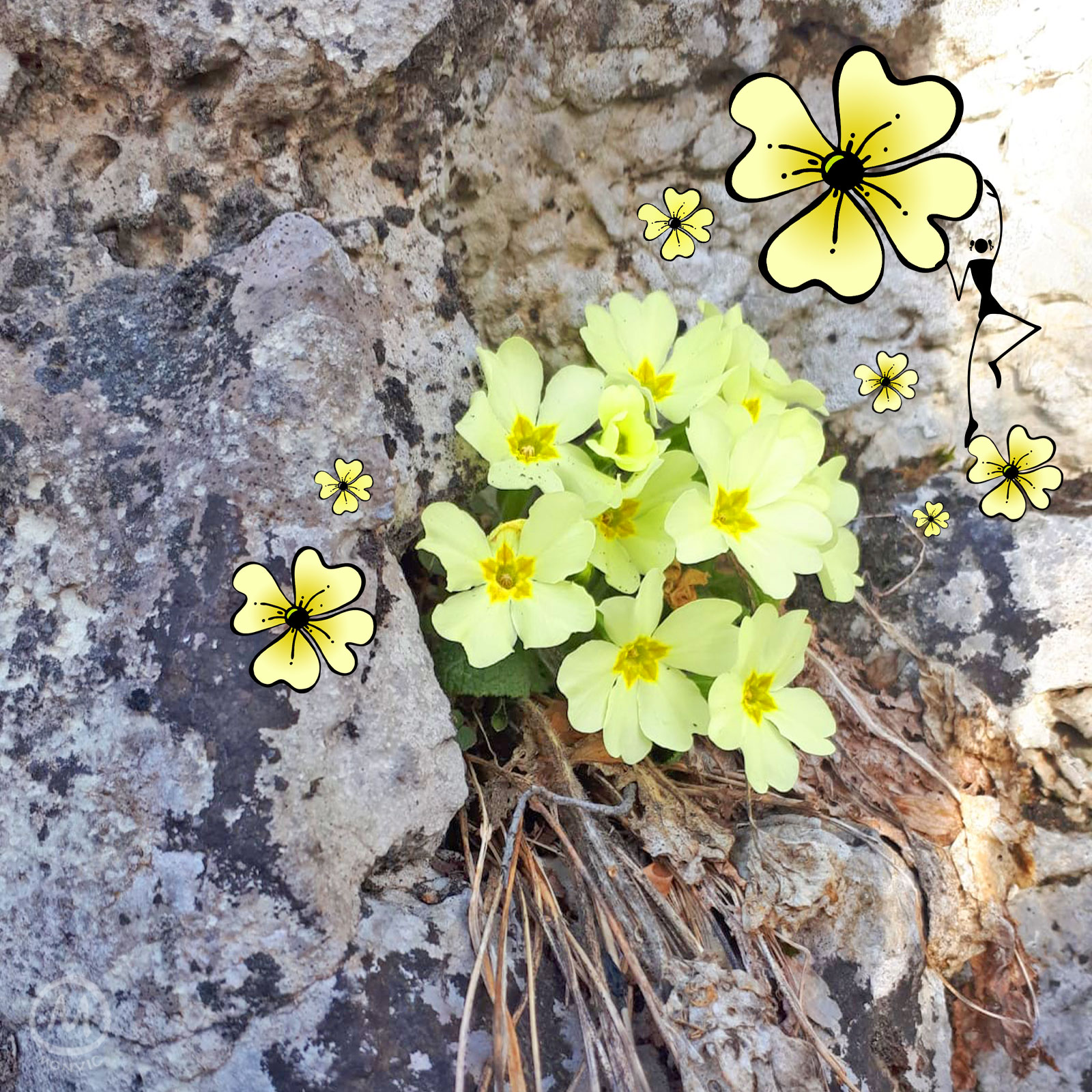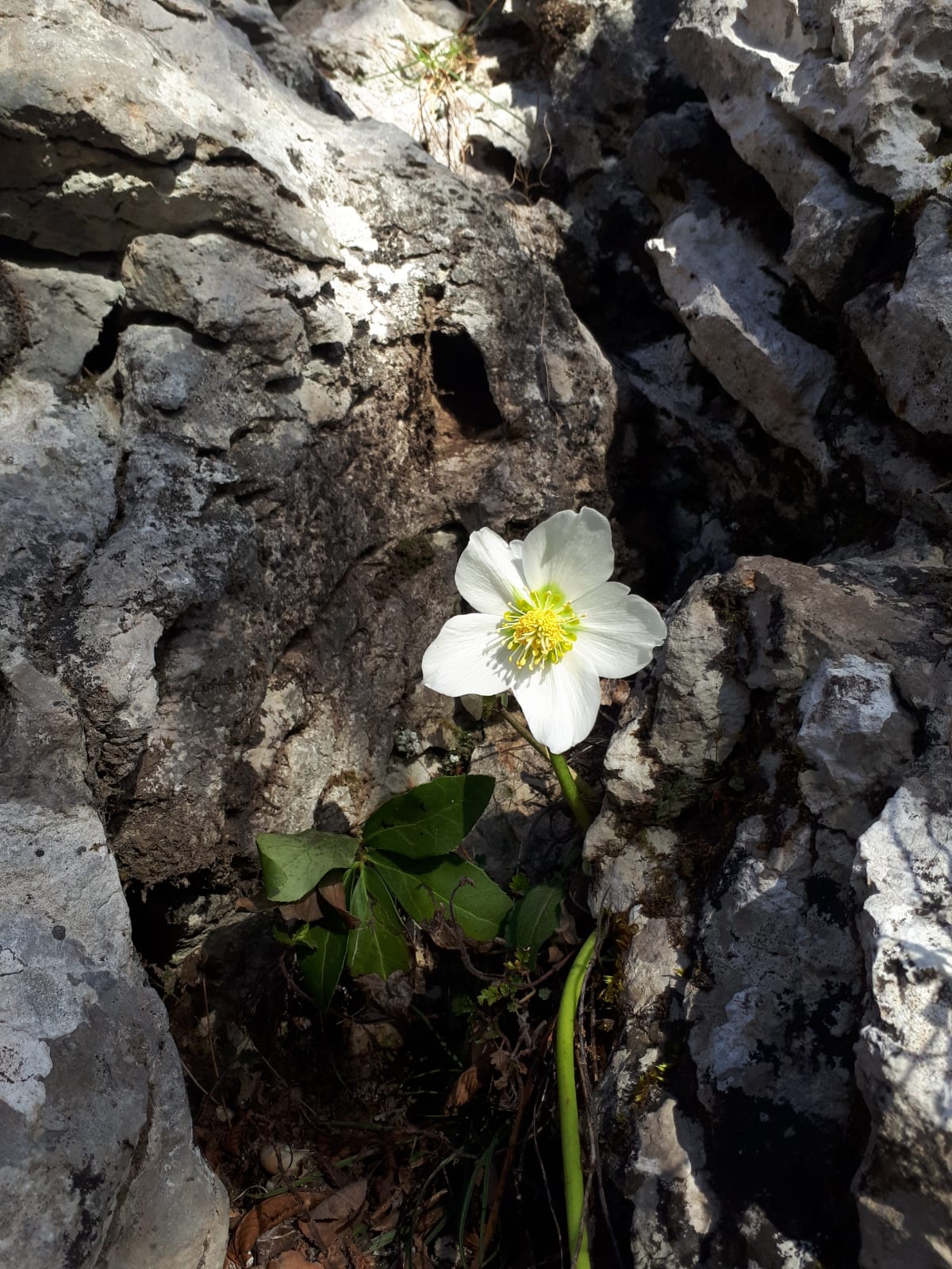 If you've ever wondered about the familiar flower that grow in the very cold months in broad-leaved woods, it's the Christmas Rose or Hellebore. The photo on the right was taken a few weeks ago at the Lantana Crag in the Seriana Valley.
And then, from March onwards, you will find an almost endless list of names of flowers and small plants that colour the mountain and alpine areas, a chromatic path that will accompany us until the height of the summer season.
Woodland violet, wild narcissus, Elder Flowered Orchid, bellflower, arnica, crocus, lily, red melandrium and many more…
In case you hadn't realised, at Monvic we just can't do without all this beauty and we've decided to put it on our climbing trousers, by choosing floral print fabrics that burst with colour and remind us that it's springtime, even in the city, even if we are stuck indoors.
While we wait until we are freer to move, we can in the meantime plan ahead for our next hikes and treks, to help us recapture the magic of the season. Below you will find a selection of routes along which you can observe the biodiversity of our territory.
The list could be longer, but we'll stop here for now.
If you feel like flowers and colours like we do, just scroll down to the floral product carousel and get wrapped up in Monvic spring.