Build your own Training Climbing Station
2020 was a tough year for most, and for sport climbers as well, who were forced to resort to home-based training, perhaps pulling up while lying down under the table, or hanging from an exercise bar under the kitchen door frame.
So as not to lose strength, with the idea of returning to climb the same grades after lockdown, many people set up a weekly home workout.
If you are currently in lockdown, and if you fear the moment you'll hold a micro crimp or, worse still, a sloper, despite some time pulling up or hanging, keep reading!
We wanted to share this project with you to show you a quick and easy way to build a home-made Climbing Training Station, where you can pursue your climbing training as if you were at the gym. You'll be free to attach sloper holds, campus board slates , hangboards and even a pulley to unload weight during challenging sessions, all this without having to drill a hole through your walls to set up a climbing wall with holds.
What do you need to build a training station?
All the listed materials can be found in any DIY or carpentry shop.
You will need:
2x Rectangular plywood panel 128 x 60 x 2.5 cm
2x Wooden beam 110 x 9 x 9 cm
2x Wooden beam 240 x 9 x 9 cm

4x

Multilayer panel cut to size (base length 107 cm x height 70 cm x width 2.5 cm and short side length 9 cm)
4 steel angle bars 10 x 10 x 9 cm
washer screws, a screwdriver and a screwer

a pencil and a tape measure
In case you want to take advantage of the weight relief option, remember to take:
6 cm threaded hook
a pulley + 2 carabiners
weights
a length of rope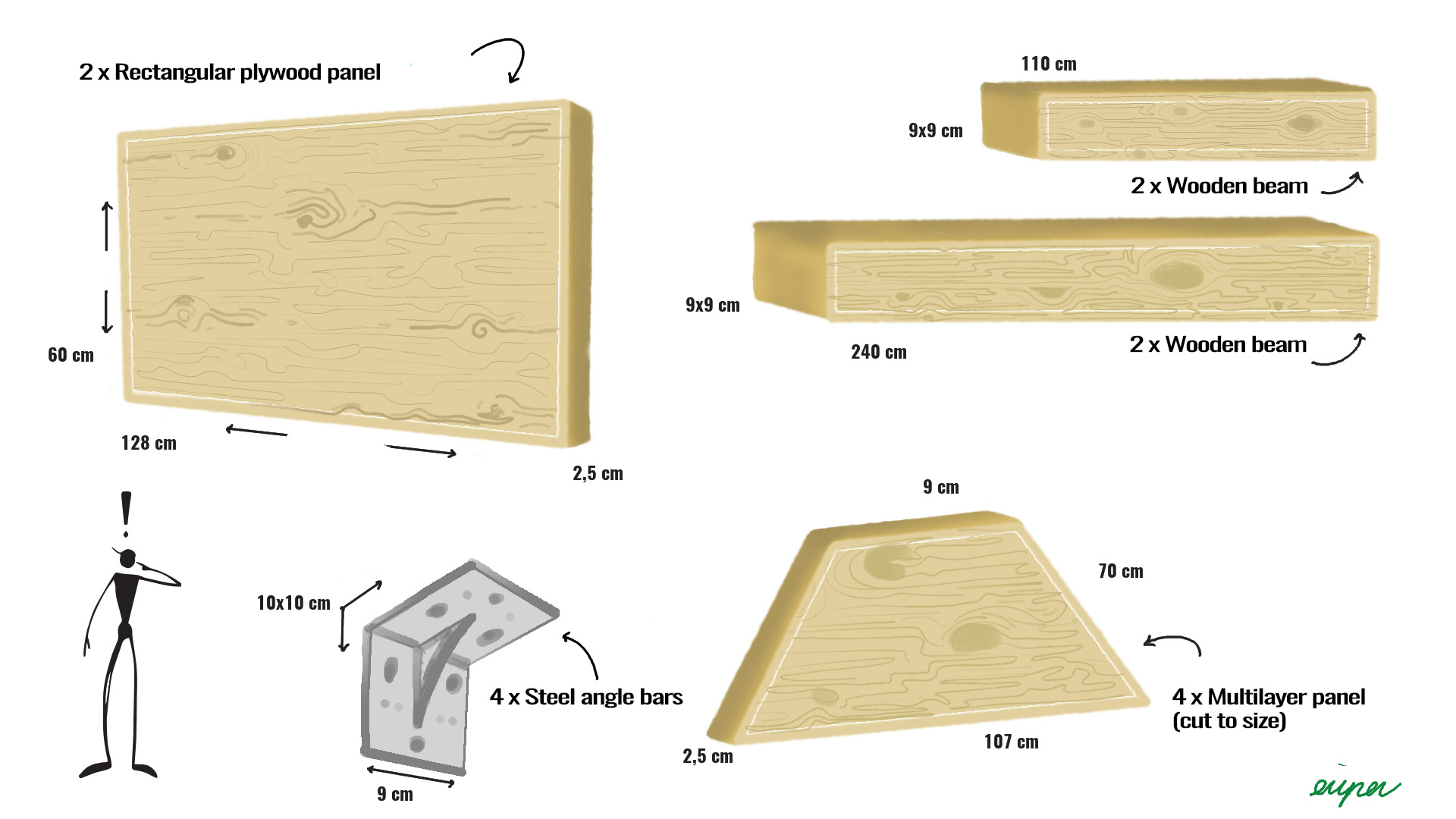 Assembly instructions: 3 easy steps!

Now that you have all the necessary materials, you can finally get on with the fun part – building the Climbing Training Station.
Screw after screw, in no time at all you will have your own indoor training tool. Not only will it be fun during lockdown days,but also whenever you are short of climbing time, or when you want to follow specific training schedules.
With our solution you will enjoy the satisfaction of having built something with your own hands, and you will also be able to efficiently organize your training sessions independently.
How does it work?
First of all, you have to create the upper part of the structure, where the end result will be the creation of a double panel that will house the holds, Sloper holds, notches and climbing hangboards.
As shown in Figure 1, take the 4 beams and 4 steel angle bars.
First fix the short beam in the high section, then the low beam. Make sure that the lower beam respects the height of the 128 cm plywood panel.
Place the two 128 cm panels on both sides, as shown in Figure 2.
Finally, starting from the outer sides and then moving on to the inner sides, attach the remaining 4 panels, the ones cut to size, which will support the base of the Climbing Training Station. Figure 3.
Congratulations! Your climbing device for specific and efficient training is ready. All that's left to do is to customise it with the tools of your choice, and as you can see, you have enough space and the right height from the ground to be able to differentiate your training sessions.
Do you want to unload weight in order to improve your threshold?
Nothing could be easier! Attach the threaded hook under the panel, connect the pulley and run the rope length, where you will add weights at one end and clip the other to the harness carabiner.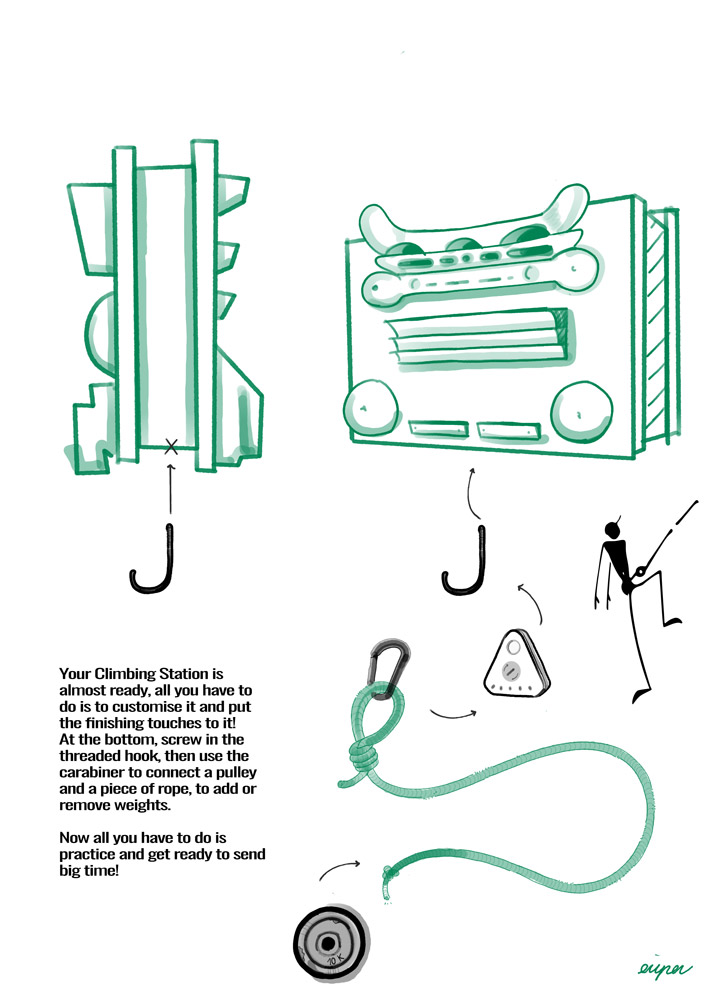 Hang. Pull. And don't forget to have a nice, cold beer after your workout.
Thanks to Erica for sharing her pictures and project for the Training Station.