If you are a climber and you have a child, you may have already asked yourself what is the right age to introduce your child into the sport and whether it is the right physical activity for him or her…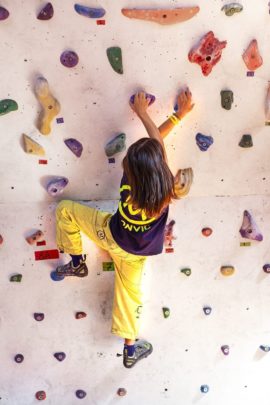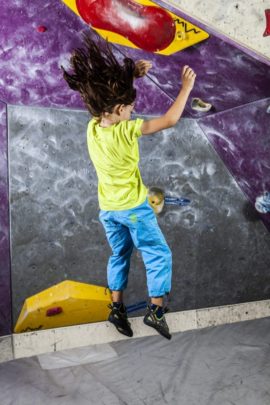 If your child is aged between 3 and 5, we can advise you to take him or her climbing with you, as a recreational activity and not as a proper sport.
This means doing without the perseverance of a sporting endeavour to avoid stressing the skeletal system, which is obviously not particularly strong at that age. Climbing should be part of a series of other recreational activities that you can offer your child.
The first time you take him climbing in the gym, you will be amazed at how spontaneous and natural his movements will seem: not only may he show a lot of promise, but, if you think about it, your child puts into practice a series of climbing movements every day,  so as to face the small challenges of daily life: going from the sofa to the cot to the traction on tiptoe to retrieve the teddy bear on the dresser.
A 6-year-old child may have the right age to start climbing as a sport. There are a number of courses for children organised by gyms that provide a safe introduction to climbing with experienced coaches/teachers.
If you have to choose between indoor and outdoor climbing, using the coloured holds and mats in the gym will most certainly be a better introduction.
Of course, the best thing about climbing is that you can then give your child the experience of climbing within nature, among the greenery, in close contact with the rock. This is a step that can be taken later in the gym as soon as the child is more familiar with heights.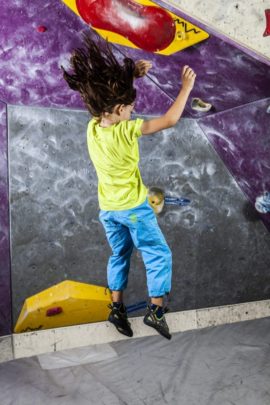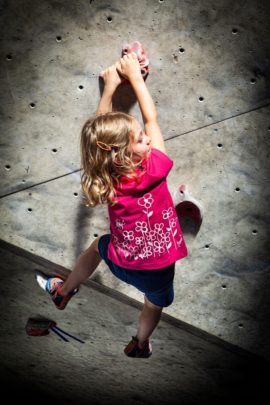 What skills are developed through sport climbing?
You will work on limb mobility, balance and coordination, and different muscle groups are involved, from the legs to the abdominals to the upper body.
But perhaps the emotional/psychological aspect deserves a special mention: the challenge of heights, the need to solve the problems of climbing – which way shall I go, how do I get there, what is the best route up – develops the child's logic, as well as concentration, problem-solving and lateral thinking skills.
In addition, if children begin belaying other children, while taking part in a course and clearly using self-belaying safety systems, they learn to be focused and responsible, to be alert to ensure the safety of their climbing partner. They then learn the importance of their own actions and develop a sense of responsibility and in turn learning to trust the others.
If these last two sentences about child safety in the gym have frightened you, we can reassure you that climbing is a low-risk sport. It is practised in the gym with the presence of trained teachers who, during each lesson, check the equipment and ensure that the child proceeds with the training without the slightest risk. Obviously young children and beginners will always be supervised by the teacher and not by other children. It is only when experience and age are appropriate that some courses will prepare the pupils to belay each other.
SPORTS SWEATSHIRTS FOR CHILDREN
CHILDREN'S JEANS AND SPORTS TROUSERS
The watchword is comfort. Whether it's a boy's sporty sweatshirt, girl's trousers or a t-shirt, there are three rules:
They must not squeeze nor constrict their little bodies. The children should feel as free as possible in their movements.
They must be durable and robust Children play, run, crawl on the wall or on the rock, and trousers must be their allies in the quest for fun and motor learning.
They must be cheerful and colourful. Sweatshirts, trousers and sports t-shirts for children are imagined and manufactured as a hymn to colour. Girls' sweatshirts in fuchsia, green, yellow and blue… And boys' trousers in cotton or elasticated jeans with decorations on the ankle.
While we already differentiate ourselves in the production of sportswear for adults by the variety of colours in our fabrics – our claim is COLOURS ON THE MOVE, and that stands to reason – for children we have made a special effort to look for bright, fluorescent colours so that we never lose sight of them.
Kids' T-shirts, sweatshirts and sports trousers
The Monvic children's sportswear line consists mainly of three categories:
Kid's T-shirts | Kid's sweatshirts | Kid's trousers and jeans.
Each garment has a wide selection of colours and you can also choose from a vast range of graphics to personalise it; our designs recall the fantastic world of nature and sport.
You'll find sizes from 3 years old to 14 years old and we make alterations or customised products to suit your needs.
CHILDREN'S SPORTS T-SHIRT
Climbing for children with autistic spectrum disorders
We would like to devote a separate chapter to investigating this sport in children and young people with autistic disorders.
It is not easy to choose a suitable sport, but it is unlikely to be a team sport requiring advanced communication and social skills from the child.
Climbing is an individual sport, it does not require any particular social interaction other than the one with the individual instructor: it therefore may not present communication obstacles. Practice in the gym is very intuitive: the colours of the holds and their positions indicate a path to follow through the action of repetitive movements. Climbing will be useful to help them in their muscular development and to help the ability of both balance and coordination of movements.
We would like to point out that we are not experts on autism but the references you can find in favour of climbing are many and authoritative.