Finale calls and Monvic answers! We are already excited to participate in the 11th edition of Finale for Nepal. We will bring with us colour, creativity, enthusiasm and many news that we will present to you at our stand.

After 11 editions we are still present and we like to remember the first event back in 2009, when together with our friends from Versante Sud we were the only exhibitors at this still fledgling gathering which already had the potential to become a great sporting and solidarity event.
In a magical Finalborgo which was not yet equipped to host the event (with shops and bars closed on Sundays) we met the organisers and the special mission which after so many years still attracts thousands of climbing and outdoor enthusiasts from all over Italy.
We look forward to seeing you at Finale for Nepal on the weekend of 13-14-15 May
Haven't you heard yet? Because of Covid, two editions were missed and this year the usual September event was brought forward to May.
This year it will be even easier to get to the event as the location will be directly in the town of Finale Ligure in Piazza Vittorio Emanuele: a 6-minute walk from the train station and a stone's throw from the beaches… so pack a swimming costume!
The Finale for Nepal program
FRIDAY MAY 13TH
h 9 PM | REEL ROCK 16
RInternational review of climbing films: Bridge Boys, Barefoot Charles, Big Things to Come and Cuddle.
Finalborgo, Santa Caterina Auditorium
SATURDAY MAY 14TH
h 9 AM | Mandala ceremony
The Tibetan Monks open the XI edition by starting to create the mandala, whose realization will continue until Sunday 15
Finalmarina, Spiaggia dei Neri
NEXT
in Finalmarina, Piazza Vittorio Emanuele

BOULDER & CLIMBING CONTEST 2022 UNDER 14 CATEGORY – Setters: Igor Simoni and Simone Zappini
h 9.15 AM | registration opening
h 10 AM | first qualifying round
h 12 AM | second-round qualifications
---
h 10 AM | Antoine Le Menestrel presents "Paisible" an all-day vertical dance show
h 4 PM | Live connection with "LaCasa di Ste" in Kathmandu
family house run by Finale for Nepal
h 4.30 PM| Boulder Finals Under 14
Followed by award ceremonies

h 6 PM | Meeting with Anthony Gullsten
Finnish climber "La Sportiva".
h 7.15 PM | The experience of Finale for Nepal
members of the "Finale for Nepal" Association meet the Mayor of Finale Ligure
h 7.15 PM | Best Trik "Rock Slave"
Athletes: Gullsten, Biagini, Iagnemma, Raimondi
SUNDAY MAY 15TH
Finalmarina, Piazza Vittorio Emanuele
h 9.30 AM | Trekking with the Sherpa
Registration and departure
h 10 AM | Trail Running "Fly"
(12 KM) in cooperation with "Trail Runners Finale ASD""
BOULDER & CLIMBING CONTEST 2022 SENIOR CATEGORY – Setters: Igor Simoni and Simone Zappini
h 9.15 AM | registration opening
h 10.00 AM | first round qualifying
h 12.30 AM| start of second qualifying round
h 3 PM | Antoine Le Menestrel presents "L'Aimant" vertical dance performance
h 3.30 PM | Climbing for all children
h 5.00 PM | Boulder finals Senior category
Followed by award ceremonies
h 5.45 PM | meeting with Filippo Oliva, physiotherapist
Description and prevention of climbing injuries and safe use of the beam
h 7 PM | Mandala Destruction Ceremony by Tibetan Monks
Finalmarina, Spiaggia dei Neri
To follow
Greetings and stories
Organised by the "Finale for Nepal" Association and the Municipal Administration
Side events throughout the event:
Material tests
Photographic exhibition on Nepal
Mountaineering exhibition by Gianni Calcagno (at the fortress of Castelfranco in Finalmarina)
Yoga
Holistic massages
Canoe experiences
sailing boat experiences (LASER BUG)
Slackline
sailing boat experiences (LASER BUG)
HAPPY TO HAVE BEEN DONORS OF FINALE FOR NEPAL FOR 11 YEARS
The Finale for Nepal solidarity project
This major national sport climbing event was created with a noble objective in mind, and proof of its success can be seen in the various projects carried out over the past 11 years by the sports and voluntary organisation Finale for Nepal. The projects are diverse and focus on the most disadvantaged areas of the country, all of which aim to improve the living conditions of children and the local community. You can read by clicking here the details of the projects.
Seeing our brand Monvic among the donors of the event makes us happy and proud. The commitment we put into what we do and the way we do it allows us to be craftsmen in the production of sportswear at the forefront of solidarity projects and always attentive to the ethics of how and what we produce.
The long collaboration with the association Finale for Nepal continues this year and we are finishing printing the T-shirts for the under-18 women's contest with dedicated graphics for the event.
Even though the venue has changed this year, we would like to re-propose the "Life is good in Finalborgo" T-shirt, graphically designed by us in collaboration with Alessandro Girelli's shop OUTPOST in Finalborgo.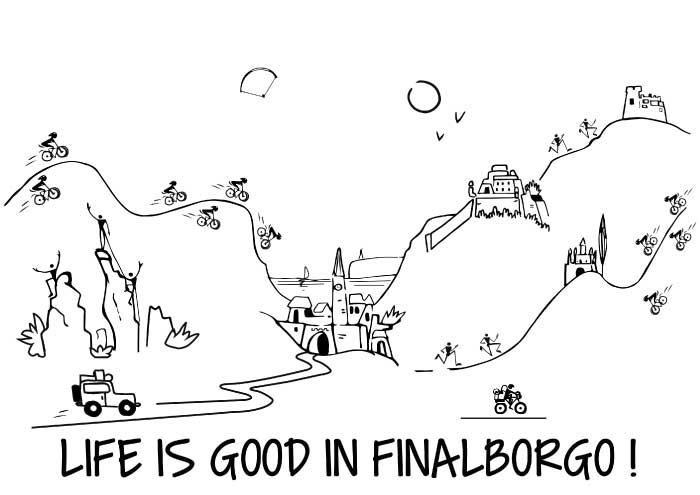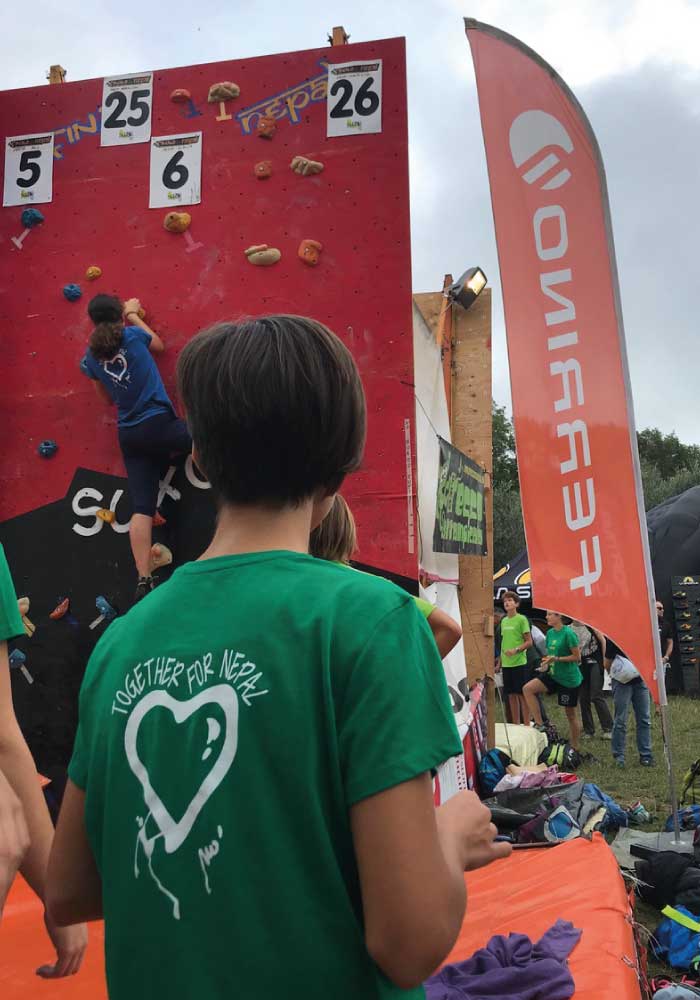 MINI-GUIDE ON OUTDOOR ACTIVITIES IN THE AREA