Do dog and owner really tend to look alike?
What is certain is that some everlasting pairs of friends – two- and four-legged ones – become so symbiotic that they represent a single entity in the imagination of those who frequent them. Friends that you can easily recognize only if they walk alongside their dogs, but whom you would find difficult to identify individually from a distance.

I could go on and on about how important a dog is once it enters a person's life, how easy it is for it to become a full-fledged family member or an adventure companion for any lucky adopter. It is enough to think that a puppy was buried 14,000 years ago with its human family, who cared for and looked after it despite its poor health, out of friendship and affection and not for the purposes of hunting or other odd jobs.
I believe that this historical testimony is the counter-evidence that the bond between the two species has been consolidated to such an extent that, for us Westerners, it is customary to welcome a puppy into our homes for the sole pleasure of sharing part of our lives with it.
How funny, when on a mountain path you find little dogs that you would never expect leaping athletically up rocky steps, urging or soliciting their human partner.
How nice to see puppies of any breed and dimension staring at their owners climbing on the wall, most probably wondering if they really have to go high up that way.
How cool, when big molossers breeds don't let their friend out of sight like upstanding bodyguards, trying not to be distracted even by the smells of the world around them.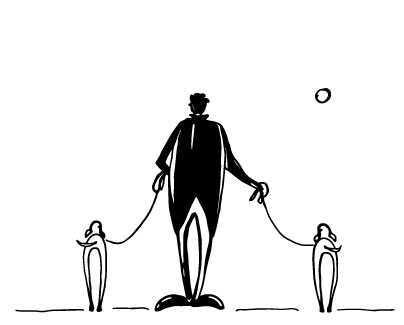 Lost in my thoughts, I started scribbling the silhouette of a dear friend of mine and her Rocco (her dog) on a piece of paper. I then sent the drawing to her with WhatsApp Within 10 minutes she called me enthusiastically, asking me to print it on a T-shirt.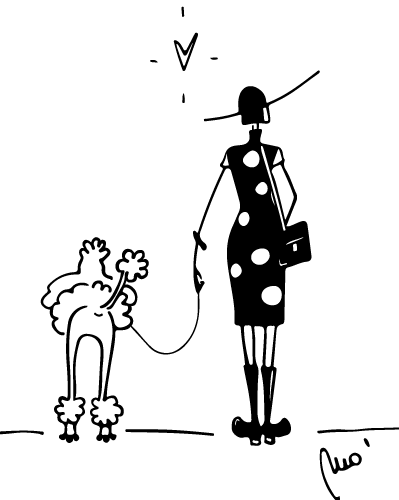 As soon as she put the shirt on, word spread among dog-lovers in the area and e-mails began to arrive with photographs of 'mixed couples' requesting personalised t-shirts or sweatshirts or even just drawings as gift ideas for their wives, partners or daughters, and I found my inbox full of portraits of strangers flanked by dogs of all sizes.
And at that point I gave myself the answer, dog and master are not alike. But when love and affection flow between them, they are like pieces of a puzzle that fit together perfectly.
This is how the graphics and clothing line My dog and I started. Personalised casual clothing with a specially designed dog/owner print.
Would you like to give or get a t-shirt or sweatshirt with customised graphics?
In 4 easy steps you can have the requested T-shirt delivered to your home or send it to the dog-lover you want to surprise.
Choose the t-shirt or sweatshirt product: according to your needs and select the size and colour. Obviously, the graphics of the image on the T-shirt "displayed online" will be personalised with the design created for you.
Proceed with the online order.
Once you have acquired the "raw material", all you have to do is to take a photo or have it taken, preferably a full-length back shot of the dog and its owner.(See the example image on the right).
At this point, send the photo to info@monvic.it to request personalisation by specifying the reference number of the purchase made.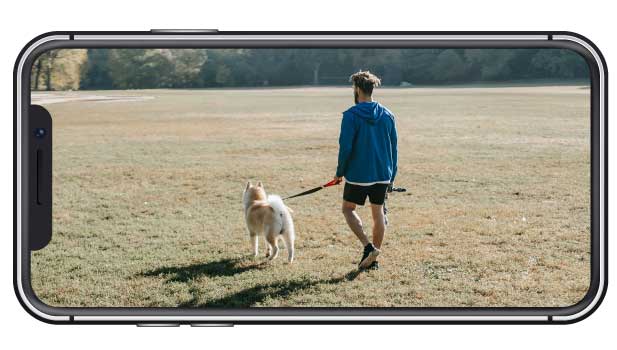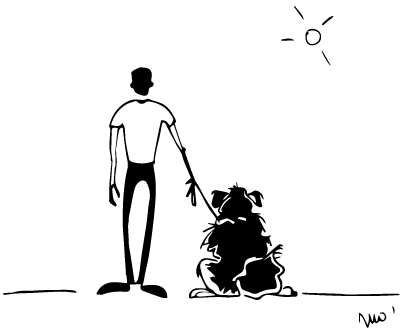 Our pen and imagination will be put to work and after a few days you will receive the mockup of the customized T-shirt with the design created.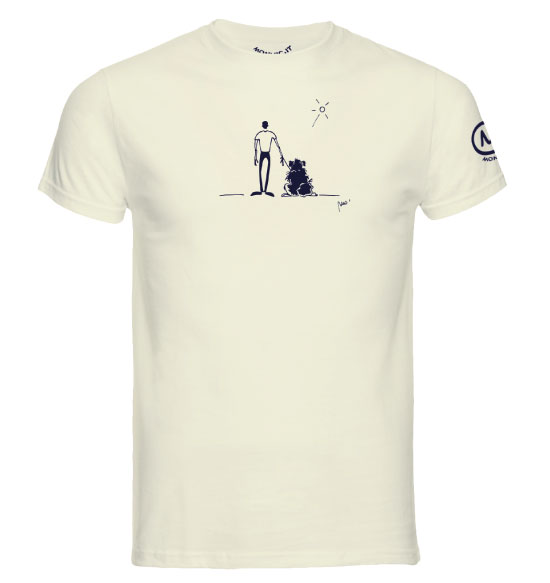 You just have to confirm the printing.
And so a thought turned into a graphic sign and became a product of the Monvic line.
Convinced that creativity moves the world, or at least mine, I continue to draw!