Have you ever stumbled while walking in sporty trousers that are too long, or felt a chill creep up your ankle while halfway up a high mountain route? Or felt uncomfortable in trousers that are too tight on the hips or showing off your underwear while climbing, exposing the skin of your waistline?
Fashion, and that includes sportswear, has often greatly standardized sizes and shapes of models, pursuing the industrial production of clothes by focusing on standard sizes.
This uniformity of sizes is even more exaggerated in sportswear, so that you will hardly find a real XL in cycling or climbing trousers. This is both due to the optimization of production and to the widespread idea that a sportsman fits even more rigidly into a defined aesthetic canon.
But unfortunately, or rather fortunately, not everyone is like Ondra or Ghisolfi. So we at Monvic are happy to tell you about our way of making bespoke sportswear..
We are particularly proud of this because we are convinced that sport has to be inclusive, it should be practiced by everyone, and everyone should feel comfortable and perform well in the clothing he or she wears while playing sport.
What tailor-made sportswear solutions do we offer?
First of all you can purchase climbing trousers in sizes XXS to XXL (subject to availability, of course) from our website.
In addition, climbers can request the desired customization through various channels: by clicking on the REQUEST button on the product detail page (see screenshot), by sending an e-mail, by calling or by coming to our showroom.
Further modifications to the selected size and model are possible: the length of the leg, the addition of belt loops, even specific waist or thigh measurements or the application of the special velvet patch to clean the shoes when climbing outdoors.
But that's not all: making a handcrafted product also allows us to be very specific about print customization; subject to availability, you may choose the fabric and even the colour or the seams, if you fancy a specific colour contrast or simply want wear a unique garment.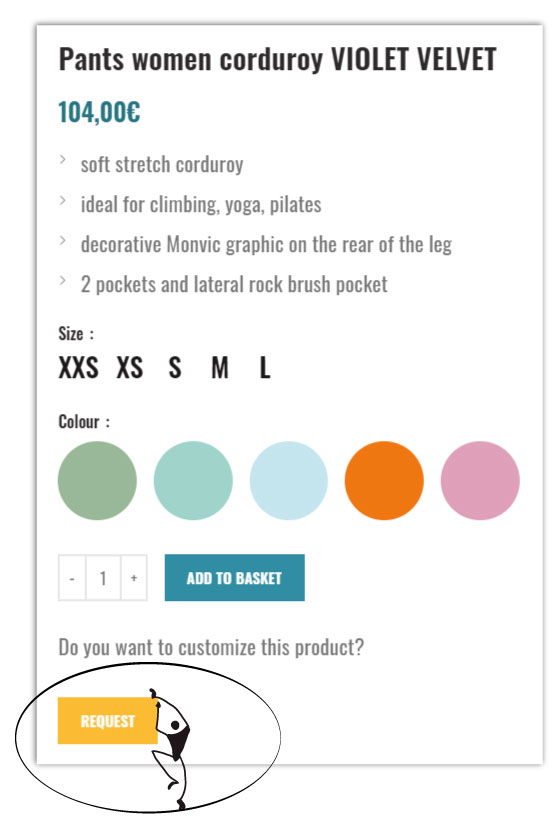 Customized graphics
Graphics customization is another chapter belonging to the additional variables to tailor your sportswear. For T-shirts, for example, you can match Monvic Art to the T-shirt you like best in terms of colour and material – choose among organic, vintage or technical.
You can also contact us and ask to design a unique graphic for your team, your group of friends or just for you. This has been a very popular choice, throughout.
In addition to t-shirts or sweatshirts, some prints can also be applied to your chosen trouser model.
How much does it cost to customize your climbing trousers?
We assure you that the cost will just slightly exceed the e-commerce price. Depending on the changes you require, we at Monvic will contact you to inform you of the extra charge and find a way to fully meet your requirements, as well as offering you the best advice for any changes in size, fabric matching and new seams.
From customization to the birth of a new trouser model: Powder
Since we craft bespoke trousers for top-notch climbers, we are constantly improving our products, based on feedback from those who use them first-hand. In one particular case, the customization of a pair of trousers brought forth an extremely innovative garment, POWDER trousers, a patented Monvic model.
Perfect for bouldering and rope climbing, they are an excellent ally while outdoor climbing. They stand out because of integrated chalk pockets at the sides and velvet patches at the bottom of the leg to clean the shoes.
We have completed the trousers by inserting a zip, a press button and a soft elastic band with drawstrings to adjust the fit on your waist
While waiting for shops to reopen, you can book an appointment in our showroom to choose fabrics and try on trousers.
Make it even easier and select a model from the many option you can find online and fill in the customization form.
Now all you have to do is contact us and wait for your unique, tailor-made garment, delivered straight to your door!